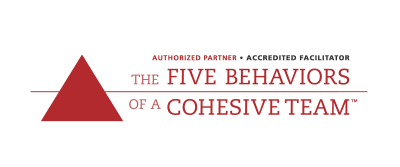 The single most untapped competitive advantage is teamwork. To gain this advantage teams must trust one another, engage in conflict around ideas, commit to decisions, hold one another accountable, and focus on achieving collective results.
Most organizations believe that their product, technology, service, strategy, etc. is what sets them apart from the competition. While those things are important, when an organization focuses on getting people working together on productive, cohesive teams, they will accomplish great things, and that teamwork may be an organization's ultimate competitive advantage.
Based on the work of Patrick Lencioni's international best-seller The Five Dysfunctions of a Team, The Five Behaviors of a Cohesive Team® Powered by Everything DiSC® helps teams apply The Five Behaviors™ model to drive team effectiveness and productivity. 
With The Five Behaviors of a Cohesive Team®, individuals gain insight about their team's strengths and challenges and discover how effective communication and objective feedback transforms team culture. Bringing together everyone's personalities and preferences to form a cohesive, productive team takes work, but the payoff can be huge—for individuals, for the team, and for the organization.

Jeanne has done a fantastic job at creating and empowering a leadership team at Bond. We've already seen improved communication and forethought across our organization as a result of her coaching.
- Erick Bond, Vice President at Bond Benefits Consulting